Turnpike Expansion, The Oklahoma Turnpike Authority, & Pike Off OTA
On February 22, 2022 the Oklahoma Turnpike Authority (OTA) unveiled a new $5 billion turnpike expansion plan titled ACCESS Oklahoma.  Governor Stitt announced the plans to the Oklahoma Turnpike Authority Board of Directors claiming the turnpikes would go through only farmlands and pasturelands causing minimal disruption to lives. On this day hundreds of home owners learned their houses were in or near the path of turnpike destruction via posts on social media. There were no public discussions or previous press releases about the impact of these projects.
The Oklahoma Turnpike Authority has become too powerful and detached from accountability. OTA is held accountable by their board members – only one of whom is an elected official (Governor Stitt) – and OTA has the sole discretion to determine turnpike locations with no input from the citizens or the municipalities they will affect.
Additional Structures Depreciated within a 1/2 Mile
These numbers are estimated based on comparing the outdated images used on the AccessOklahoma.com map with the more up-to-date images on the Cleveland/McClain County Assessor Maps.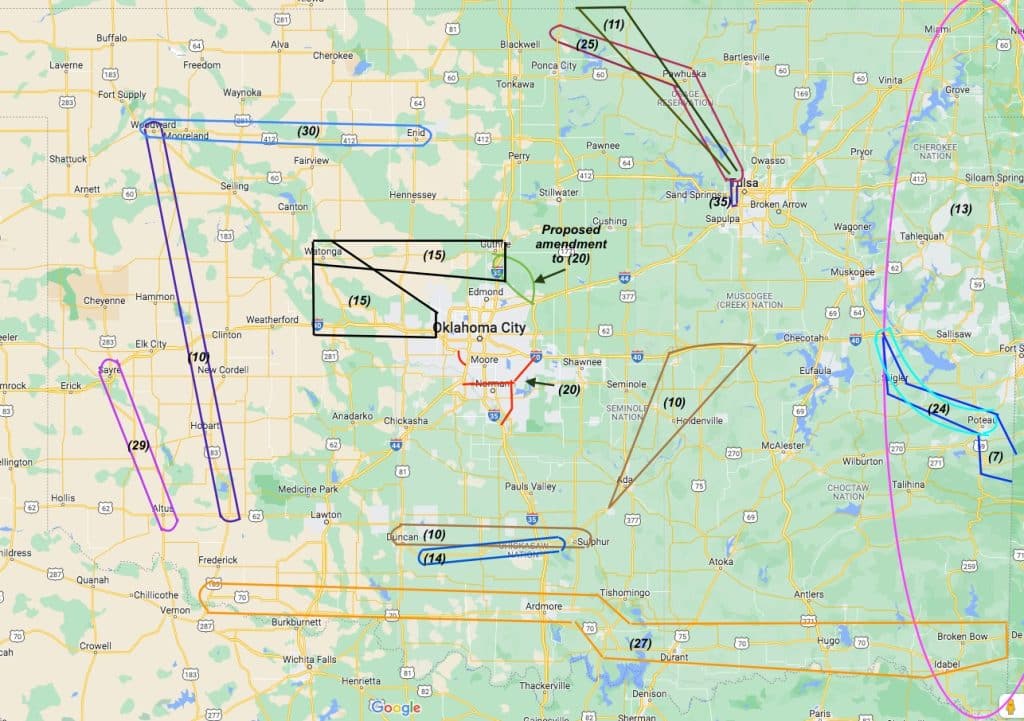 Our goals go beyond stopping the new proposed turnpikes. We are working to protect individual property rights from the Oklahoma Turnpike Authority and their use of Eminent Domain. If you are in any of the marked areas you are in particular danger as the OTA claims to have legislative approval to build turnpikes in these areas. Numbers correspond to their number in the state statute §69-1705. 
By promoting properly planned and financially responsible transportation, we can help protect Oklahoma's agriculture, lands, waters, and wildlife, and provide a better future for our children. 
You can read more about us and our goals here.
Tuesday
,
Oklahoma Department of Transportation Headquarters
No event found!
Dr. Amy Cerato, a geotechnical engineer and professor of civil engineering, speaking to the Oklahoma Transportation Authority Board of Directors on March 29, 2022 about the ecological, economical, geographical, and humanitarian issues of the proposed turnpikes.