What the East-West Connector Is
The ACCESS Oklahoma East-West Connector is a proposed 28 mile stretch of new turnpike. It begins at Newcastle, travels east across the South Canadian River, intersects with I-35, continues east along Indian Hills Road in far north Norman, and finally connects with the existing Kickapoo turnpike at I-40. It is intended to be a portion of what is known as the Oklahoma City Outer Loop.
The route includes interchanges at I-44, Western Ave/60th Ave NW, I-35, S. Broadway, S. Sooner Rd/SH-77H, S. Douglas/48th St, the proposed South Extension Turnpike, S. Choctaw Rd, S. Peebly Rd, and I-40.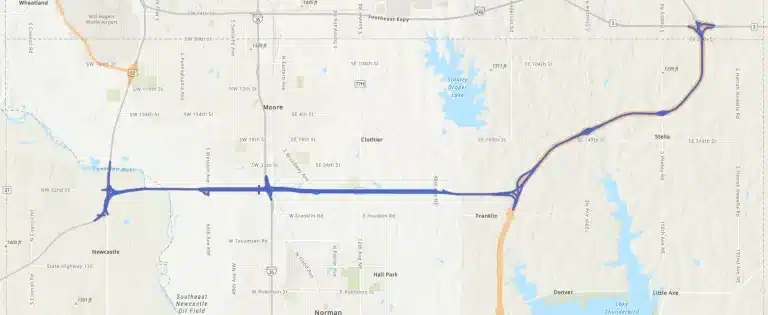 The East-West Connector of the Access Oklahoma plan is described in §69-1705 paragraph (e) sub-paragraph (20).
"All or any part of an Oklahoma City Outer Loop expressway system beginning in the vicinity of I-35 and the Turner Turnpike and extending west into Canadian County and then south to I-40; and then south and east to I-35 in the vicinity of Moore and Norman; and then extending east and north to I-40 east of Tinker Field; and then extending north to the Turner Turnpike to complete the Outer Loop."
This legislation was enacted in 1987.
The East-West Connector of the Access Oklahoma plan is unauthorized due to §69-1705 paragraph (f) that plainly reads:
"To issue turnpike revenue bonds of the Authority, payable solely from revenues, including the revenues accruing to the trust fund created by Sections 1701 through 1734 of this title, for the purpose of paying all or any part of the cost of any one or more turnpike projects. Provided that any bonds issued for the construction of the proposed turnpike referred to in subparagraphs (10), (20), (21) and (22) of paragraph (e) of this section shall be issued as one issue for all four of the proposed turnpikes and shall be financed, constructed and operated under one bond indenture."
This legislation was enacted in 1987 as well. What this means in layman's terms is that the Oklahoma Turnpike Authority had to issue all the turnpikes listed in sub-paragraphs (10),(20), (21), (22) under one bond issue.  That bond was issued back in 1989 with the construction of the Kilpatrick Turnpike.  Therefore, they cannot legally issue any new bonds to add to or complete these turnpikes set in sub-paragraphs (10), (20), (21), or (22).
Listen to attorney Robert Norman explain the "impenetrable wall" 1705 (f) places on bonding the East-West Connector at this link.
The OTA is Not Legally Authorized to Bond or Build the East-West Connector
From Pike Off OTA's Protest Brief dated September 9 2022:
"The OTA is trying to circumvent the people's elected representatives and the rule of law with the proposed new turnpikes in ACCESS Oklahoma. A fundamental rule of the Courts is to vindicate the rule of law and curb government overreach, from wherever and however it may come. The OTA is not legally authorized to bond and build the East-West Connector, the Tri-City Connector, or the South Extension."