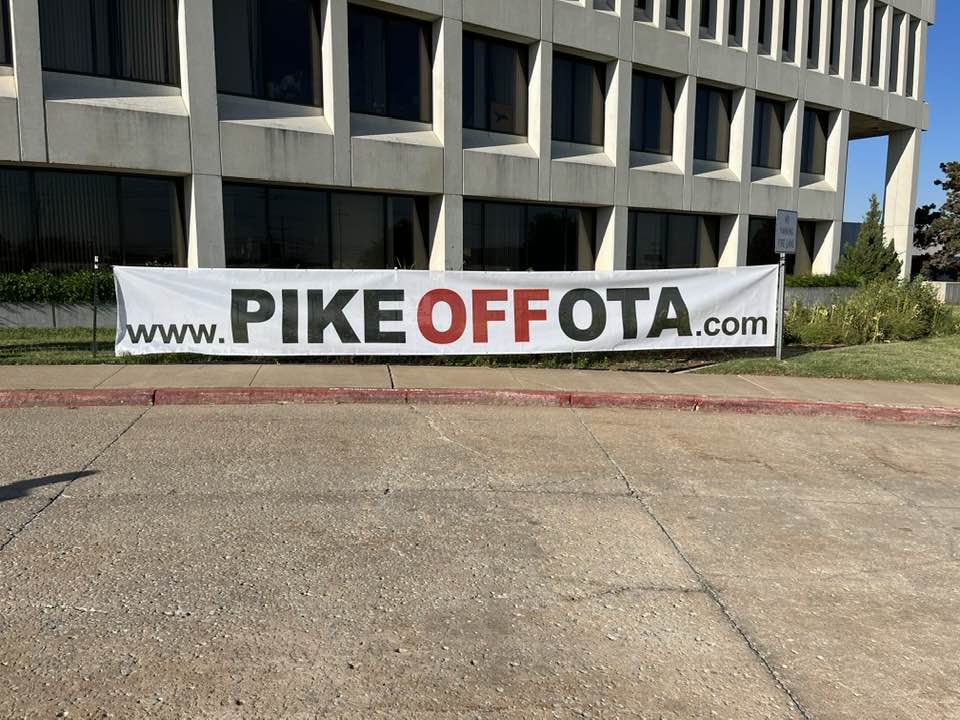 Pike OFF OTA Public Protest at ODOT Headquarters
MONDAY is the meeting of the Oklahoma Transportation Commission, and three of their sub-committees, where eight people will rule on the fate of thousands of Oklahomans, and approve or disapprove routes for future toll roads in Central Oklahoma.
We will be there to tell them, "NO. STOP. YOU ARE NOT ALLOWED TO STEAL OUR PROPERTY, FORCE OUR FAMILIES FROM THEIR HOMES, RAPE OUR ENVIRONMENT, DRIVE AWAY OUR WILDLIFE AND POISON OUR WATER SUPPLY. NO. YOU STOP NOW."
There are also three issues of immediate concern:
(1) We have been informed the OTC Sub-committee meetings ARE NOT PUBLIC MEETINGS. This includes the Operations and Administration Sub-Committee meeting, which meets at 9am, and is set to discuss the proposed toll road locations. This is a CLEAR AND FLAGRANT VIOLATION of the Oklahoma Open Meetings Act. WHY ARE THEY NOT PUBLIC MEETINGS?
(2) The agenda for the general Commission meeting, to be held at 11am, reads at the end, "The Department (ODOT) has completed a review of the proposed alignments…. The Department recommends approval of the proposed locations," yet there have been NO public meetings and NO public involvement done by ODOT relating to the "proposed locations," as required by Federal Law and the regulations described in ODOTs Public Involvement Plan.
(3) Transportation Commission District Three is the most affected District in the State, the District most impacted by the three major proposed toll roads, yet the District Three Commissioner position is still VACANT. WHY IS THERE NOT A DISTRICT THREE COMMISSIONER? THIS IS NOT RIGHT.
Please spread the word about this event, and most of all, COME. Bring your children. Bring your Moms and Pops. It is an ALL AGES EVENT.